June 2021 Keeper's Report
The Keeper's Report
June 2021
Welcome to your June 2021 Keeper's Report in an all new format but still with all the latest action for clean water right here in your waterways!
Clearing the Nurdle Hurdle is a team sport. But, don't take our word for it, check out the Nurdles Deep Dive discussion hosted by the South Carolina Conservation Coalition.
You'll hear from your Charleston Waterkeeper, Andrew Wunderley, Senator Sandy Senn, Emily Cedzo from the Coastal Coastal Conservation League, and attorney Mathieu Erramuzpe from the Southern Environmental Law Center on why collaboration matters and how we are fighting to keep your harbor and beaches free of industrial plastic pellet pollution.
Watch Today: Nurdles Deep Dive
Catastrophic nurdle spill
The pellet spill in Sri Lanka is tragic, familiar, and heartbreaking. It's also a symptom of lax oversight of the plastic industry that cannot be allowed to continue. "Just trust us" isn't good enough.
Washington Post: Learn More
A new 23 acre park on the Charleston Harbor? 
Yes, please! Kudos to Sen. Chip Campsen and Rep. Spencer Whetmore for jumping on this once in a generation opportunity to preserve an important property and increase public access to the harbor–which by law belongs to you!Post and Courier: Learn More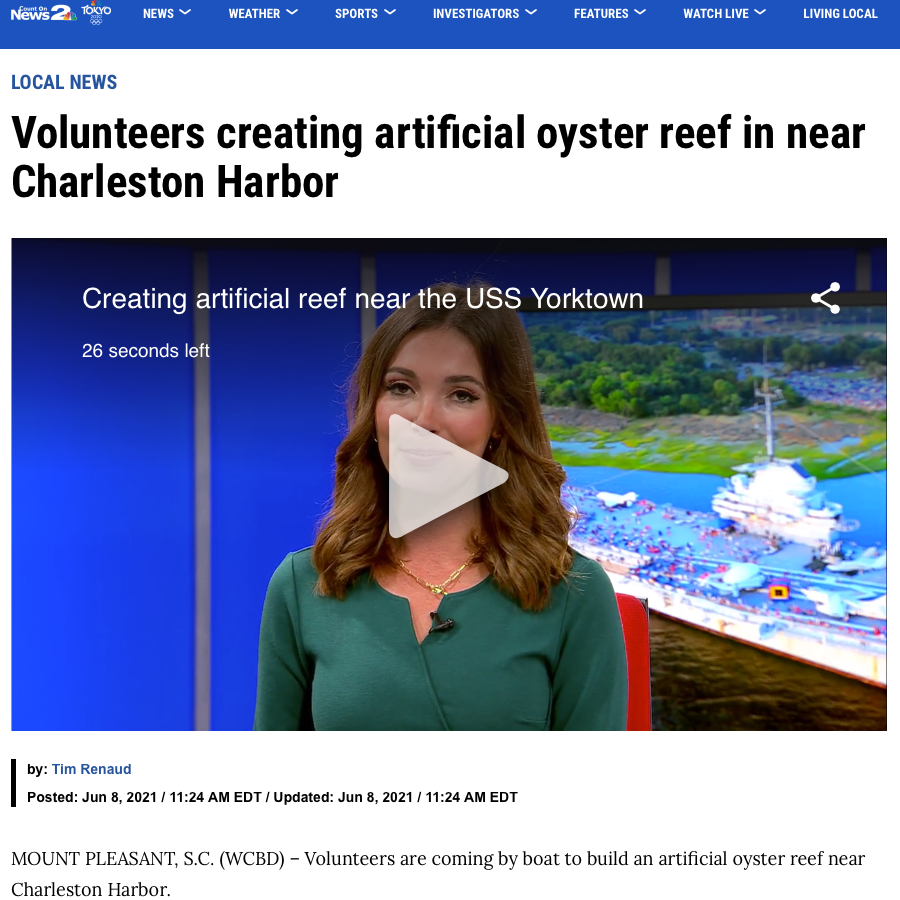 New Oyster Reef Conservation is about collaboration! Proud to stand with SC DNR's SCORE program and Patriots Point to build a new oyster reef in the harbor. It takes a village!
Member Spotlight – Mike Marcell
We caught up with one of our favorite long-time supporters after this week's bacteria testing run!
Mike says he supports Charleston Waterkeeper because "he loves that the data he helps collect gets put to good use making important changes for clean water in my community."
Water Quality Testing Campaign 
The water is warm and that means our annual water quality testing campaign is underway! Testing bacteria levels at 20 different spots and publishing the results every week so you know when and where it's safe to swim is expensive but critical work for your community. We need your help to make sure we can test and publish all 520 samples for you this year.
Join the campaign today and help us reach our 520 sample goal! Every gift gets us closer to our goal and helps keep you safe!
Boots on the water
You're awesome and you stand up and show up for clean water! Already this year we've mobilized over 300 volunteers, planted 344 bags of oyster shell, and removed over 5,000 pounds of trash from your waterways, harbor and beaches!
Join the fun: Volunteer
Bacteria testing 
100 down, 420 to go! This week we took our 100th sample of the 2021 season. We added 5 new sites this year, including Hendricks Park on Filbin Creek and the Stono River at Sol Legare to help keep you and your family safe.