Welcome to your May 2022 Keeper's Report!
May is always a big a month here at Charleston Waterkeeper because the water is warming up and it's when we kick off our annual bacteria testing season. This year marks our 10th season testing water quality for you and your family!
Every week, through the end of October, our team and volunteer water quality scientists are out in the field collecting samples from each of your waterways and creeks where SUP enthusiasts, boaters, shrimpers, fishers, beach goers, and families enjoy time on the water. The team is also hard at work in the lab analyzing the samples and will publish results for you every Friday.
What's more, our citizen-scientist Creek Watchers are actively testing and reporting on waterway health from 23 key locations in your rivers and creeks. We are working on some exciting new ways to make this data easily accessible for you. For now, be sure to check out the latest in the Clean Water Updates below.
Keep an eye on the data! Water quality is not always good and it's crucial to be aware of where it is safe to swim, fish, and recreate.
We are only able to do this work because of the commitment and generosity of this community. Thanks to folks just like you, the mid-year water quality testing campaign is gaining momentum and we are getting so close to hitting our goal and more motivated than ever to keep up this important work!
The campaign has only 10 days left and thanks to the Gardner Family Foundation, your contribution for clean water will be matched up to $12,000! Power the fight for healthier waterways by standing up today and help us meet our goal!
News
Events
Member Spotlight
Clean Water Updates
#ChasWaterkeeper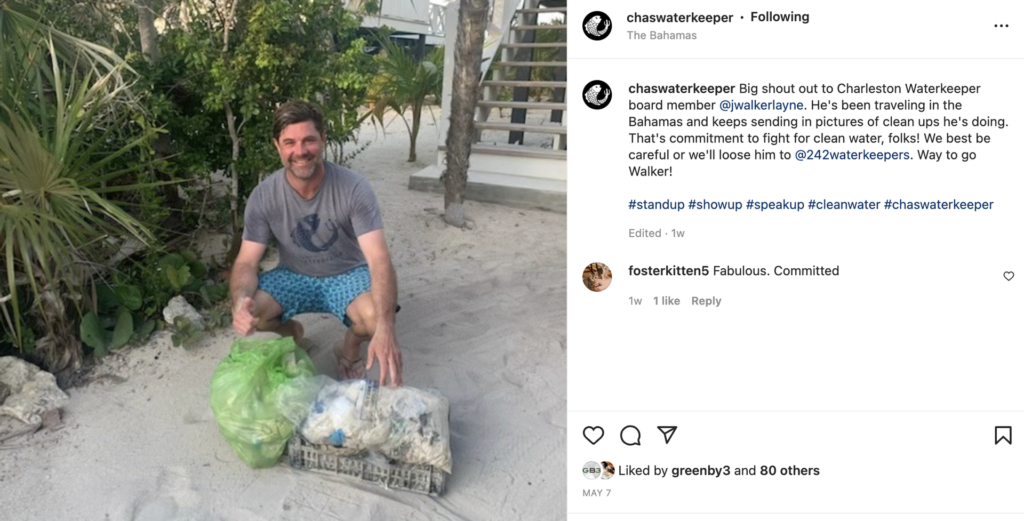 Way to go Walker!
Big shout out to Charleston Waterkeeper board member Walker Layne. He's been sending in pictures of clean ups he's doing while traveling in the Bahamas! That's commitment to fight for clean water, folks!
Let's Get Social
Don't miss any of the action for clean water: especially the weekly restoration events! Be sure to follow along on Facebook, Twitter, Instagram, and now LinkedIn!