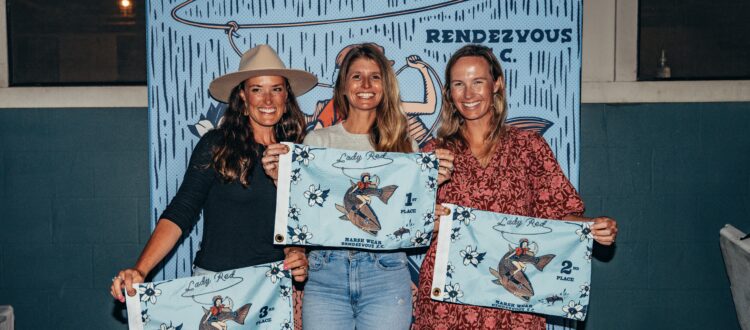 Marsh Wear's 1st Annual Lady Red Rendezvous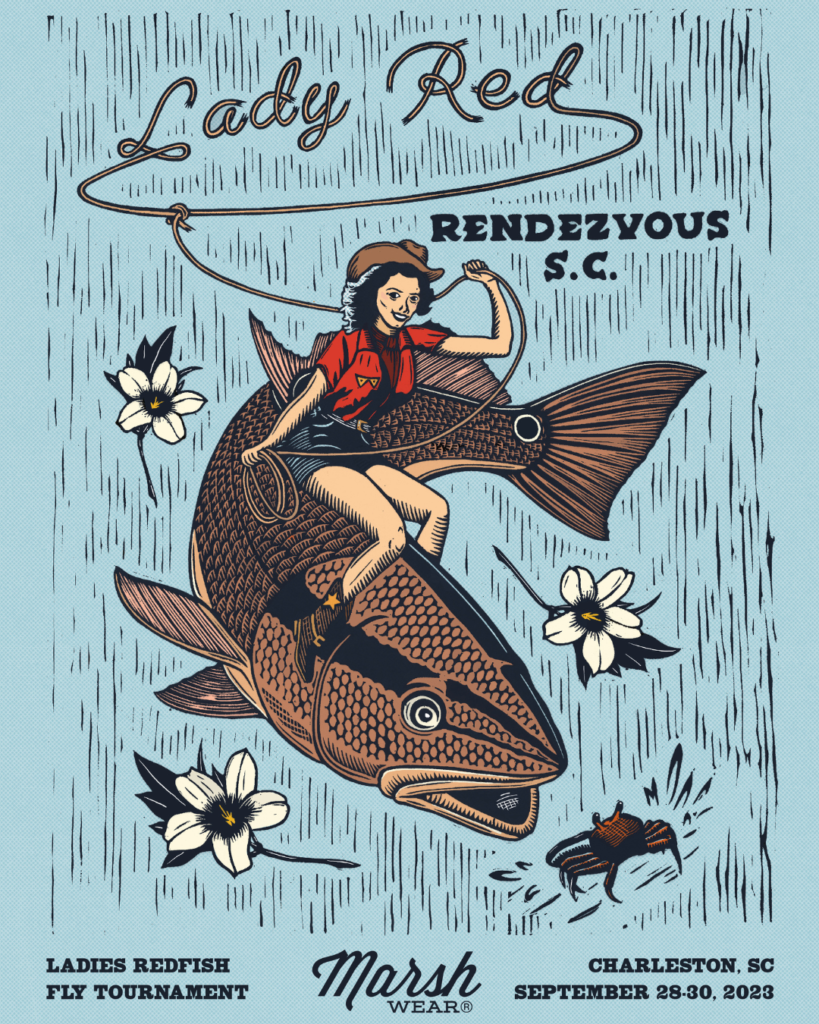 Charleston's First Women's Redfish Fly Tournament
Charleston, SC, September 30, 2023 – Marsh Wear hosted its first annual women's redfish fly
tournament, the Lady Red Rendezvous, in Charleston, SC, this past weekend on September
28-30, 2023. With 50 teams, 66 female anglers, and five states represented across the
Southeast, this inaugural year brought together the fly fishing community to support women in
the sport and benefit the Charleston Waterkeeper, whose mission is to defend and restore
Charleston's waterways.

The weekend started with the Captain's Meeting at Marsh Wear HQ on Meeting Street in
downtown Charleston. All the ladies and their teams showed out to meet other anglers, pick up
their Captain's buckets full of tournament merch, and hear the reading of the rules. The energy
and excitement for the weekend continued to build as the girls enjoyed some good eats from
Jalisco Taqueria's food truck, live music and browsed the many raffle donations.

Each team declared their fishing day, whether Friday or Saturday and were sent out to prepare
for the weekend, the winner to be decided by combined inches of their three largest fish.

Friday's weather was gloomy and gray with light winds, but that didn't deter 25 teams from
selecting that as their fishing day. Despite the conditions, teams caught 30 of the 43
tournament fish on day number one, with some impressive numbers that made the stakes even
higher for day two. Saturday brought sunny skies and stronger winds. With early mornings, each
girls' team stayed out and made it happen with lines in at 7 a.m. and out at 4:30 p.m.

The awards ceremony and after-party were held at Lewis BBQ, the perfect spot to gather
around the table and share stories, laughs, and good times from the weekend. The buzz and
excitement from each woman who fished over the weekend lit up the back patio. The
friendships formed and time together were invaluable. No matter what the results, the energy
was hard to beat.

The tournament's final results brought a sense of pride from every team, with 1,122.5 total
combined inches caught from all teams and 43 redfish caught and released over the weekend.
It is an impressive testament to the power of getting women on the water together.

At the end of the evening, the official results were in. In first place, Bre and Wilds Drake of Team
Drake came in with a combined 88.75 inches. Second place was Meg and Rob Fischer of Team
Ladyfisch with a combined 82.25 inches. And in third place, Caroline Irwin and John Irwin of
Team Flyright with a combined 81 inches. Each winner received a custom Lady Red
Rendezvous flag with prizes from Costa, Yeti, Williams Knives, Ruthless Handmade, Blacktip
Fabrication, and the grand prize trophy made by Parrish Precision Welding.

"The tournament brought together a community of female anglers and friends from across the
Southeast to have a fun weekend on the water doing what we all love most. The number of
women who caught their first redfish on the fly, got back on the water, or went fly fishing for the
first time really makes it all worth it. It's about bringing our community together and building
those relationships that will last far beyond one weekend," Kait Dobbins with Marsh Wear
Clothing remarked.
Marsh Wear Lady Red Event Photos (Photo Credit: Hayden Dobbins)

About Marsh Wear


Marsh Wear Clothing was founded in 2010 for those in pursuit of good times outdoors. Back
then fresh ideas and all that made the brand special were fueled by pluff mud, waving fiddlers,
and tailing redfish. And while the breadth of our pursuits, and in turn our product line, have
grown since then, it's that same feeling of being out there in the thick of it that fuels all that we
do. Our home, here in Charleston, SC, has inspired us in more ways than one. Hard lessons
learned on falling tides and knee-deep in sticky pluff mud have taught us that the best things
come when earned and you get out what you put in. These same truths influence the clothes we
create for your adventures. Learn more at marshwearclothing.com.

Media Contact:

Kaitlyn Dobbins
Content Marketing Manager
[email protected]
386-283-1321
Marsh Wear Lady Red Rendezvous Instagram