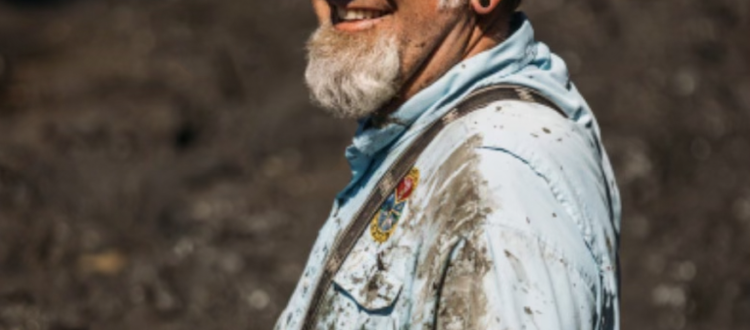 INTERVIEW WITH MICHAEL HODGES
We caught up with the legendary Michael!
HP: Why do you choose to support Charleston Waterkeeper?
MH: I choose to support CWK because they are an amazing organization. We first worked with CWK in 2015 and our partnership has grown tremendously since then. They have really allowed the South Carolina Oyster Recycling and Enhancement (SCORE) Program to grow in ways that weren't imaginable prior to 2015. CWK has partnered with us on over 140 volunteer events, bringing 2.466 volunteers where they donated more than 4,800 hours to stewardship activities. They have removed >3,800 lbs of trash from recycled shell, planted >80,350 germinated marsh seedlings, constructed oyster reefs at 11 sites in the Charleston area with 162,180 lbs of oyster shell and hand excavated 50 feet if new tidal channel.
HP: What is your favorite way to enjoy clean water?
MH: Harvesting oysters. There is nothing better than an oyster harvested from SC waters and one way to ensure we can have oysters to enjoy is by keeping water quality safe for the consumption of our local seafood.
HP: What is your favorite waterway in Charleston?
MH: Charleston Harbor. I get to look at the Harbor whenever I sit at my desk and Our DNR facility is located on Charleston Harbor so I have been working on the Harbor for the last 21.5 years. We have constructed numerous almost 40 acres of oyster reef in the at 135 sites in the Charleston Harbor watershed and we fill it is important due to the stressors that are constant in this area.
HP: Tell us about what you have been working on or a recent project
MH: My career has been dedicated to restoring and enhancing estuarine shorelines spanning the 200+ miles of SC's coast. A recent project that we have been implementing, of which CWK has been an important partner, is our NFWF_NCRF project that is focused on tidal creek restoration in West Ashely, in the Ashleyville Neighborhood. This novel nature-based project is a unique opportunity to work in an area where our program hasn't historically worked. It is focused on restoring oyster and marsh habitat in a very historical an significant part of Charleston using methods that haven't been well documented in literature. Charleston Waterkeeper wrote a letter of support for the project and we knew we could count on their support for project implementation.
HP: Tell us something interesting about yourself that we might not know
MH: I love clowns, not the intentional creepy ones. I love the happy go lucky clowns which are supposed to bring people joy. I also collect animal skulls that I have found in the field while doing field work.
Michael Hodges
SC Department of Natural Resources
Shellfish Management Section