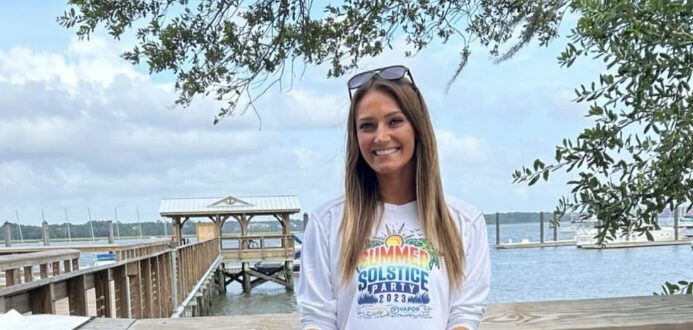 INTERVIEW WITH BRITNEY PREBIS
We caught up with the amazing, Britney Prebis!
HP: Why do you choose to support Charleston Waterkeeper?
BP: Since moving to Charleston to pursue my graduate studies in environmental sciences, I've been hugely inspired by Charleston Waterkeeper's unique conservation model and mission to defend and restore Charleston's waterways. I believe Charleston Waterkeeper's water quality monitoring programs, boots on the water stewardship, and efforts related to policy action are critical components of keeping Charleston's ecosystems healthy and thriving. Plus, from the staff to the volunteers, I cannot think of a better support system or more dedicated group than those involved with Charleston Waterkeeper.
HP: What is your favorite way to enjoy clean water?
BP: This is a tough one, but I absolutely love watching the sunset over the marsh or coastline!
HP: What is your favorite waterway in Charleston?
BP: Living on James Island, I initially fell in love with James Island Creek and the surrounding marsh.
HP: What is your current project based on?
BP: I'm currently working on developing a community science-based microplastics monitoring protocol with Charleston Waterkeeper for my graduate thesis! This protocol is meant to be an add-on to CWK's Creek Watchers program, which involves volunteers adopting sites in the Charleston region for monthly monitoring. The microplastics monitoring protocol will consist of volunteers sampling, filtering, and analyzing water samples for microplastics concentrations each month in addition to their regular water quality sampling, generating data that can help to drive advocacy and policy action by pinpointing where concentrations warrant attention and potentially identifying sources.
HP: Tell us something interesting about yourself that we might not know?
BP: I was part of the team that conducted the first microplastics study in Southwest Florida for my undergraduate research as well! We are working to have the results published by the end of this year.
Britney Prebis
M.S. Environmental and Sustainability Studies, '24
University of Charleston, South Carolina
Graduate Intern, Charleston Waterkeeper