August 2023 Keeper's Report
The 4th Annual REVEL ON THE RIVER is set for November 4th at Freehouse Brewery from 1-5pm and the Early Bird Tickets are on sale now and Revel Partnerships are open!
Revel on the River is Charleston Waterkeeper's largest fundraising celebration of Charleston's harbor, creeks, and rivers with 100% of the proceeds going back to protect and restore your waterways for future generations.
Now is the time to get your tickets and look forward to gathering with fellow waterway stewards, recreational boaters, philanthropists, surfers, fishers, area business leaders, citizen scientists, and an active, local audience deeply connected to, and passionate about Charleston's waterways!
– Your Charleston Waterkeeper Team
Latest News
---
---
🌊 Member Spotlight 📣
Events
---
---
---
🦪 Clean Water Updates 🌱
---
---
---
#ChasWaterkeeper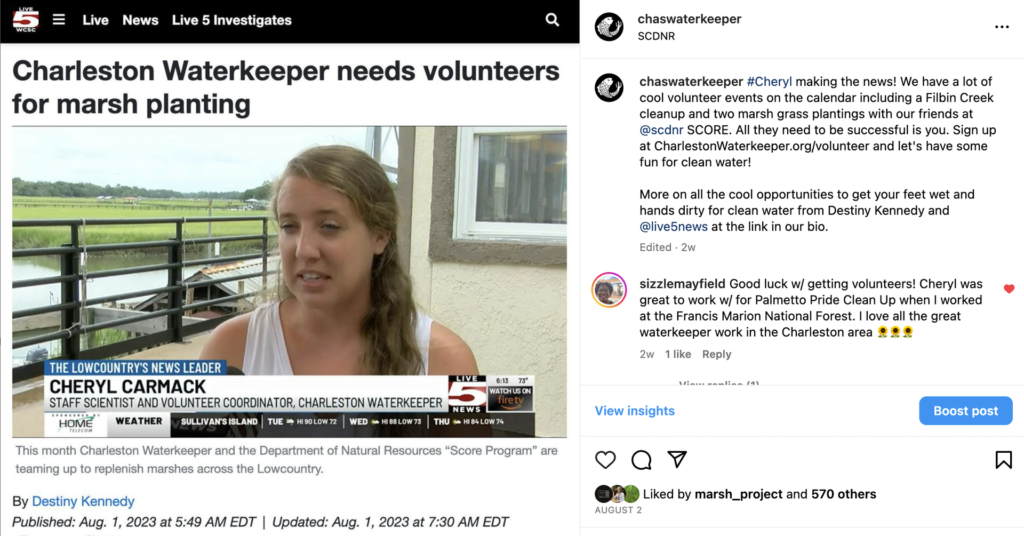 Look who made the news!?
Cheryl, our trusted Staff Scientist and Volunteer Coordinator, steps in to help educate the public on all the cool opportunities to get your feet wet and hands dirty for clean water!
Let's Get Social
Don't miss any of the action for clean water: especially the weekly restoration events! Be sure to follow along on Facebook, Twitter, Instagram, and now LinkedIn!