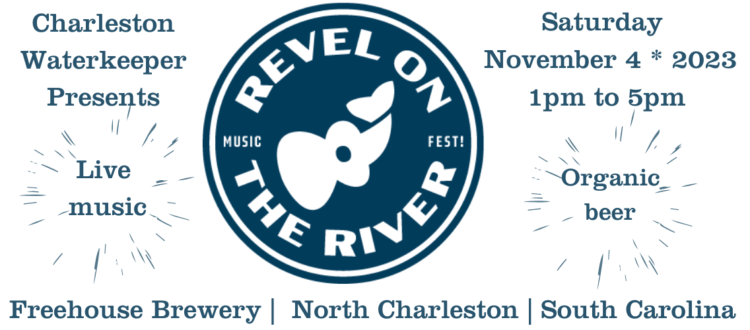 4TH ANNUAL EARLY BIRD TICKETS ARE ON SALE!
(August 15, 2023) Charleston, SC – Improving the quality of the Lowcountry's majestic waterways through science, stewardship, and advocacy, Charleston Waterkeeper has long been recognized as an environmental leader in protecting and restoring Charleston's harbor, rivers, and creeks for future generations.
Serving as the voice for Charleston's rivers and waterways since 2009, the 501c3 organization looks to raise money and awareness this Fall when they host their largest annual fundraising event.
Revel on the River is Charleston Waterkeeper's family-friendly fundraising celebration of Charleston's harbor, creeks, and rivers with 100% of the proceeds going back to protect and restore your waterways for future generations.
The 4th Annual REVEL ON THE RIVER is set for November 4th at Freehouse Brewery from 1-5pm and will be a gathering of waterway stewards, recreational boaters, philanthropists, surfers, fishers, area business leaders and an active, local audience deeply connected to and passionate about Charleston's waterways!
Attendees will enjoy live music, local, organic beer by Freehouse Brewery, local oysters by Lowcountry Oyster Co., delicious eats by Dashi, King of Pops, dozens of local vendors, giveaways and raffle prizes! Every single one of the partners and musicians involved has a strong connection to your local waterways and are passionate about clean water today and every day for future generations!
Charleston is a very special place because of our waterways and their natural beauty. Through community events like Revel on the River, we can bring attention and awareness to the effort to protect and restore our rivers, creeks, and harbor and bring our community together to celebrate all that Charleston's waterways provide us.
– Andrew Wunderley, Executive Director of Charleston Waterkeeper.
Board member, founder of Guilded Horn, Rutledge Baker will be among many looking to toast the accomplishments of the organization. "With such an incredible cause and line-up, this year's Revel on the River is not to be missed! Thank you to the tremendous support of our partners and the hard work of our volunteers, donors, and staff, we expect to surpass our 2023 goals towards fulfilling Charleston Waterkeeper's mission to protect and restore your waterways. I am looking forward to celebrating the fight for clean water with family and friends!"
The time is now to give back to an impactful organization out there every day on the front lines, fighting for your right to clean and healthy waterways. Visit charlestonwaterkeeper.org/revel to learn more about the available Revel on the River Partnerships and to purchase your Early Bird tickets!
About Charleston Waterkeeper®
Charleston Waterkeeper (501c3), founded in 2009 to protect and restore Lowcountry waterways for future generations, is based in Charleston, SC. The organization uses an effective mix of boots-on-the-water stewardship and data-driven advocacy designed to protect the public's right to clean water for fishing and swimming. Charleston Waterkeeper's vision is a community where all our waterways are healthy and protected by active clean water stewards. A South Carolina 501c3, Charleston Waterkeeper's goal is to protect the surrounding bodies of water that make this city so special. For more information or to donate to Charleston Waterkeeper visit https://charlestonwaterkeeper.org
EVENT ARTWORK BY: GIL SHULER GRAPHIC DESIGN: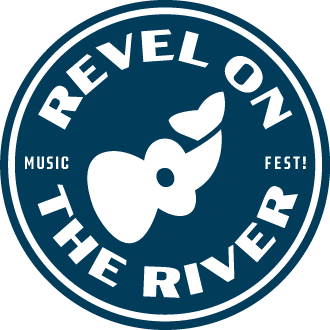 FOR IMMEDIATE RELEASE
Media Contact: Harriott Parker 843-532-2309
Marketing & Development @CharlestonWaterkeeper