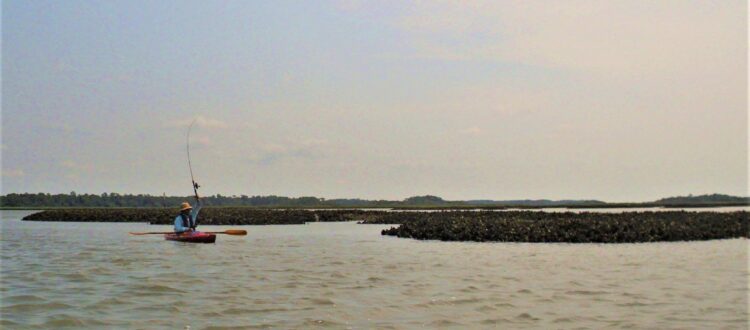 INTERVIEW WITH CRIS SUMPTER and TONY BROWN
We caught up with the Stormy Day Samplers!
HP: Why do you choose to support Charleston Waterkeeper?
Cris S: I choose to support Charleston Waterkeeper because I can have an active hands on involvement with trying to aid the natural environment I love so much.
Tony B: I've always loved to live around water. From Silver Creek and the Ohio River near my Indiana home, to the Texas Gulf Coast, then Long Island Sound and now Johns Island. I joined Waterkeeper because it is an effective voice for the health of the Lowcountry's waterways. I enjoy doing the chemistry and interacting with folks curious about what we are doing, since we sample at two tourist-heavy sites.
HP: What is your favorite way to enjoy clean water?
Cris S: I surfed for 42 years. I have fished ,crabbed ,oystered, etc. these waters out of a kayak for 12 years and from shore for fifty years. 
Tony B: Fishing. From both kayaks and a small powerboat.
HP: What is your favorite waterway in Charleston?
Cris S: My favorite area to paddle, fish, crab, clam, oyster is the flats behind Kiawah. They are seldom used which I love profoundly.
Tony B: Bohicket Creek. My tidal creek empties into the Bohicket.
HP: Tell us something interesting about yourself that we might not know?
Cris S: I lived in a pup tent many years ago on a very rustic campground out in the marsh for seven months while going to school at CofC. I was invited to move indoors with others but chose to stay in the marsh until it got too cold and then rented a rough apartment on Folly beach from May Bowen of Bowen's Is fame. I'm sure you see the picture, I'd rather rough it out in Ma, my home, than have to live in close quarters with people.
Tony B: I was trained as a firearms instructor at Indiana University.
Stormy Day Samplers
Cris Sumpter and Tony Brown (retired journalist with the Post and Courier) have served as Creek Watchers for Charleston Waterkeeper since 2018. These two cool dudes have been incredibly reliable, amazing to work with and the best Stormy Day Samplers we could ever ask for!