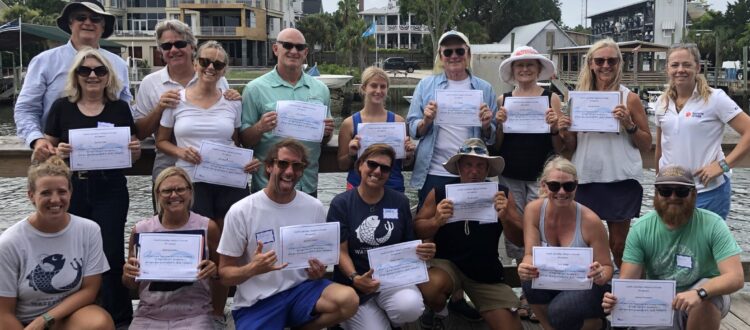 Water Watch Report Cards – 2022
Charleston Waterkeeper's Creek Watchers are community scientists trained to conduct independent monthly water quality surveys at sites throughout your waterways. We train all of our Creek Watchers under the Adopt-A-Stream Tidal Saltwater Monitoring model. In 2022, we had 57 community scientists conduct 314 water quality sampling events, completing over 1,500 hours of volunteer service!
Before we get into 2022 results, take a second to review our 2021 Creek Watcher Report Card post to refresh your memory on what our Creek Watchers monitor and what these parameters mean.
Ok, so now that you're up to speed, what did our Creek Watchers find in 2022? Check out all of the report cards here.
Much like what we saw in our 2021 Creek Watcher report cards, we uncovered issues with low levels of dissolved oxygen and large amounts of debris. Observations of these issues were slightly worse in 2022 than in 2021. One factor at play here could be warming temperatures as climate changes. There is an indirect relationship between water temperature and dissolved oxygen levels. Warmer water holds less oxygen for plants and fish. Another thing to consider is that we added a lot more testing sites this past year so that could be moving the needle as well.
As far as the debris goes, well, wherever there are humans there tends to be trash. Marine debris comes from all of us, often on accident. Being a good steward of the environment means helping clean when and where you can. Looks like we need to get to work on scheduling some cleanups!
It's not all bad news, we also saw some improvements, albeit very small ones, in water clarity and pH. We normally see seasonal variations in water clarity, as it improves in the cooler months when there's not as much biological activity in the water. Alternatively, pH is generally very stable regardless of the season, but fluctuations can be signs of changes in the chemical composition. These improvements are good news for our marine critters that call the marsh home and depend on our waterway habitats.
All in all, the water quality reports were really about the same for 2022 as they were for 2021. And that's ok. And it's to be expected. Change happens slowly over time. We're thankful for our dedicated team of Creek Watchers tracking and keeping tabs on water quality and changes in your local waterways.
Interested in getting in on the action and becoming a Creek Watcher? Email us at [email protected] for more information.